It wasn't a great start to the new year for 10% of Salesforce employees who were laid off early Wednesday. The company overextended itself during the pandemic and now, amidst recession fears, is taking a more defensive approach to staffing. As many as 8,000 people will be let go in the coming weeks.
CEO Marc Benioff says this move came as the company noticed its customers taking a more measured approach to their purchasing decisions – a fancy way of saying things are slowing down dramatically, making it too difficult to justify the retention of these employees.
Benioff says that it's not just a poor economic outlook that resulted in this decision – it's also his miscalculation of hiring too many people during the pandemic. As the company grew at an unprecedented rate, he kept hiring more and more people to keep up. But as most companies have seen in 2022, the pandemic boom has come to an end – and we're not just facing a return to normalcy, but a potential recession.
On top of cutting people from its workforce, Salesforce is also cutting physical office space – minimizing its costs through remote work. All of this is part of a larger restructuring plan that the company has in place to reduce operating costs and improve operating margins.
The announcement of this move sent CRM stock trading 3% higher Wednesday morning. This has investors wondering if the layoffs are actually a good thing. If you aren't currently invested in CRM, should you be? Is now a good time to buy? Or, on the other side of the coin, is now a good time to sell any shares you have as the company appears to be bracing for a tumultuous year?
We can help you make a sound decision by analyzing three key ratings in the VectorVest stock analysis software.
CRM Has Fair Upside Potential and Very Good Safety, But Poor Timing Right Now
The VectorVest system utilizes three simple ratings to tell you everything you need to know about a stock to make an informed decision. These are relative value (RV), relative safety (RS), and relative timing (RT).
The ratings sit on a scale of 0.00-2.00, with 1.00 being the average. Gaining insights is as straightforward as it gets, as ratings above the average indicate overperformance and vice versa. Better yet, VectorVest can provide you with a clear buy, sell, or hold recommendation based on the culmination of these ratings. No more guesswork, no more emotion in your investing strategy. As for CRM, here's the current situation:
Fair Upside Potential: The RV rating analyzes a stock's long-term price appreciation potential (3 years out) compared to AAA corporate bond rates and risk. And right now, CRM has a fair RV rating of 1.07 - right above the average. However, the stock is overvalued at the current price - with a current value of just $94.15.
Very Good Safety: The best part of CRM stock right now is its low risk. The RS rating of 1.28 is very good - and is calculated based on the company's financial consistency and predictability, debt-to-equity ratio, and business longevity.
Poor Timing: The worst part of CRM stock right now is the negative price trend it has. The RT rating of 0.82 is poor, and is calculated based on the direction, dynamics, and magnitude of the stock's price movement. This rating is assessed day over day, week over week, quarter over quarter, and year over year.
Together, these three ratings contribute to an overall VST rating of 1.06 - which is fair. But does that earn the stock a buy rating, or is it actually time to sell? Should you wait to see if today's 3% price jump turns the trend around for CRM? Get a clear answer on your next move through our free stock analyzer.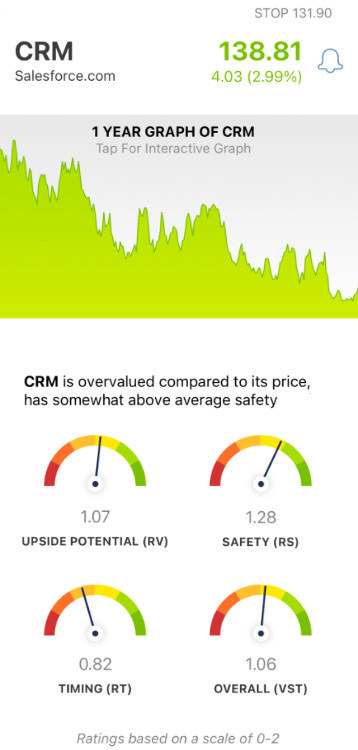 Want These Types of Insights at Your Fingertips so You Can Win More Trades?
Use VectorVest to Analyze any stock free. VectorVest is the only stock analysis tool and portfolio management system that analyzes, ranks and graphs over 18,000 stocks each day for value, safety, and timing and gives a clear buy, sell or hold rating on every stock, every day.
VectorVest advocates buying safe, undervalued stocks, rising in price. As for CRM, it is overvalued with fair upside potential and very good safety, but has poor timing right now.
Before you invest, check VectorVest! Click here to ANALYZE ANY STOCK FREE and see our system in action!