One stock that's been making noise – and not in a good way – is Spotify. Just under 2 years ago the stock was trading at over $360/share and seemed to be the industry leader in music streaming. Today, the stock sits at less than $80/share – reaching an all-time low of just over $70/share in recent weeks. As a result, investors are wondering if the company's focus is in the wrong place.
When you think of Spotify, chances are, music streaming is what comes to mind. But Spotify has made an effort to change that. Their focus for the past few years has expanded beyond music streaming – as they seek to be the premier destination for all things audio. That means podcasts – a segment that's becoming increasingly popular and lucrative.
Spotify has invested heavily to be the top dog in this arena – signing the likes of Joe Rogan, the Obamas, a Kardashian, and many others. But are these investments panning out? Not yet – and it doesn't appear that they will anytime soon.
As Spotify continues to disappoint in quarterly earnings, they've blamed the dismal 3rd quarter on a weak ad market and the renewal of a large publishing contract. And while it's true that Spotify is facing the same economic headwinds as other companies, investors are quickly losing their patience. 
One executive within the company claims that 2022 was their peak investment year – and things are going to turn around in 2023, with profitability just around the corner. How much longer can the company go before investors cut ties altogether, though? 
As a recession looms, investors will move their positions to companies that are capable of generating consistent returns – something Spotify has failed to do for some time. And making matters worse, we've identified three red flags for SPOT through the VectorVest stock analysis software that investors need to see.
SPOT Has Very Poor Upside Potential With Poor Safety & Timing
The VectorVest system tells you everything you need to know about a stock with just three simple ratings. These are relative value (RV), relative safety (RS), and relative timing (RT). Interpreting these ratings is as straightforward as it gets. They sit on a scale of 0.00-2.00 with 1.00 being the average. Stocks over the average are performing well, and vice versa.
But, the best part about the VectorVest system is that based on these three ratings, you're given an overall rating for the stock along with a clear buy, sell, or hold recommendation. This eliminates human error, guesswork, and emotion from your strategy. As for SPOT, here's what you need to know:
Very Poor Upside Potential:

When looking at the long-term price appreciation potential for SPOT 3 years out, it's clear to see why analysts have such a negative outlook of this stock. The RV rating of 0.14 is very poor. Moreover, the stock is overvalued at the current price per share – with a current value of just $9.81

.
Poor Safety:

SPOT has problems in terms of risk, too. The RS rating is poor at just 0.62. This is calculated based on the company's financial consistency and predictability, debt-to-equity ratio, and business longevity

.
Poor Timing:  

To make matters worse, SPOT has poor timing – with an RT rating of 0.79. This rating is based on the direction, dynamics, and magnitude of the stock's price movement. It's calculated day over day, week over week, quarter over quarter, and year over year to give you full insights into a stock's price trend.
Overall, the VST rating of 0.61 is poor for SPOT. Does that mean it's time to cut losses? Or, is there still any reason to hold onto hope and maintain your position? The answer may surprise you – you can get a clear answer on your next move based on tried-and-true investing principles – just analyze the stock free here.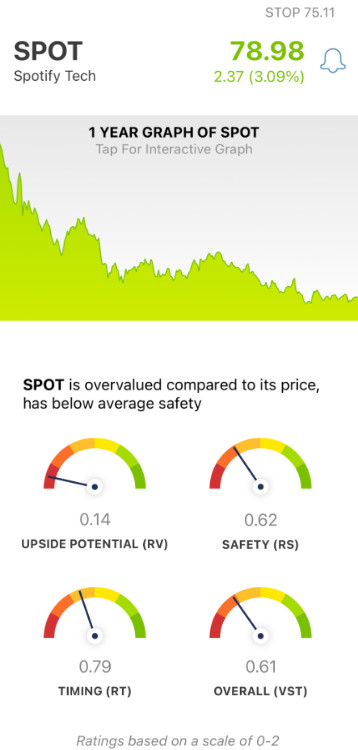 Want These Types of Insights at Your Fingertips so You Can Win More Trades?
Use VectorVest to Analyze any stock free. VectorVest is the only stock analysis tool and portfolio management system that analyzes, ranks and graphs over 18,000 stocks each day for value, safety, and timing and gives a clear buy, sell or hold rating on every stock, every day.
VectorVest advocates buying safe, undervalued stocks, rising in price. As for SPOT, it is way overvalued with very poor upside potential along with poor safety and timing.
Before you invest, check VectorVest! Click here to ANALYZE ANY STOCK FREE and see our system in action!